Back on November 8, 2014 I attended this great event.
Shopaholics' Suite - Shop The Closets of Your Favorite Local Bloggers!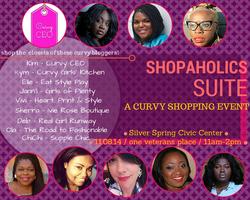 I met some of the local bloggers I follow and other really great ladies. It was a great event and I look forward to next years event. They had great raffles, food, music and of curse great items from our favorite bloggers closets. I happen to be one of the blessed attendees that won a raffle. One of the event sponsors was Fashion to Figure. As a sponsor they raffled off two $25 gift cards. I won one. I was so excited.
.
That's me with one of the young ladies from Fashion to Figure at Bowie Town Center.
After much consideration because they have such great fashions here is what I brought.
Wool Swing Coat
This coat is so cute. I was looking for a good flare coat in my size but everything I saw was my budget. Thanks to Fashion to Figure gift card and budget friendly prices I was able to get this.
The original price was $42.50; with my gift card I paid $17.50. Can you believe that. Even without the gift card this great coat is very economical. Thanks again Shopaholic's & Fashion to Figure.
Be Blessed & Smile